Couples and Connection: Incorporating Double Penetration Dildos in Intimacy
In the journey of intimacy, couples often seek new ways to connect and share pleasure. One exciting option to explore together is using Double Penetration Dildos. These special toys are designed for couples who want to add variety and spice to their intimate moments.
Understanding Double Pleasure: Double Penetration Dildos are toys that offer stimulation for both partners simultaneously. They come in different shapes and sizes, allowing couples to choose what feels comfortable and enjoyable for them.
Open Communication: Before trying anything new, it's crucial for couples to communicate openly about their desires and boundaries. Discussing fantasies and expectations ensures that both partners feel comfortable and excited about the experience.
Choosing the Right Toy: Selecting the right Double Penetration Dildo is key. Consider factors like size, material, and shape. It's advisable to start with smaller sizes and gradually explore more adventurous options based on mutual comfort.
Getting Started: Introducing a Double Penetration Dildo into your intimacy requires trust and patience. Begin with plenty of foreplay, using lubrication for added comfort. Take your time and let the experience unfold naturally.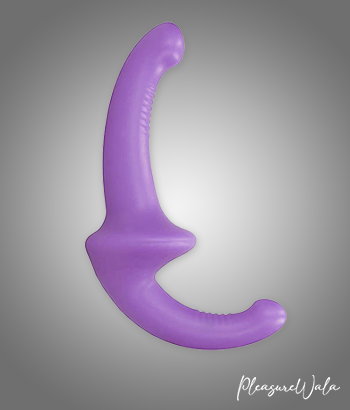 Exploring Positions: Experiment with different positions to find what works best for both partners. This shared exploration can deepen the connection and heighten pleasure. Remember, it's all about what feels good for both of you.
Post-Play Discussion: After the experience, have a post-play discussion. Share your feelings, likes, and dislikes. This open dialogue helps strengthen the bond between partners and ensures that future experiences are even more enjoyable.
Cleaning and Care: Proper cleaning and care of the sex toys are essential. Follow the manufacturer's instructions to keep the Double Penetration Dildo in good condition, ensuring a hygienic and safe experience each time.
Conclusion: Incorporating Double Penetration Dildos into your intimacy can be a thrilling journey for couples. By prioritizing communication, trust, and mutual enjoyment, this shared experience has the potential to deepen your connection and create lasting intimate memories. Always remember, the key is to explore together at a pace that feels right for both of you.
Thanks Fantasies Team