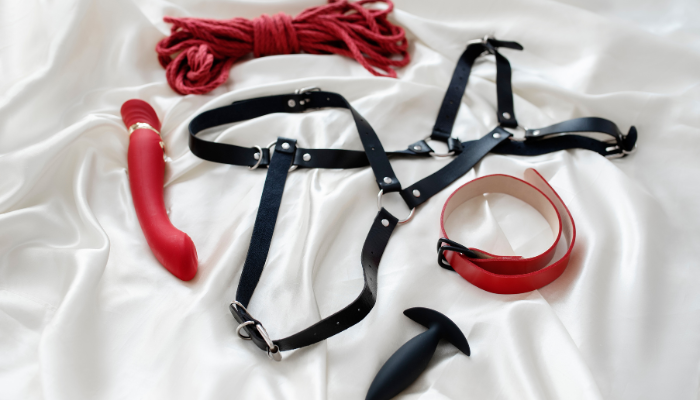 How BDSM Sex Toys Make Your Sexual Life More Exciting And Spicy
In recent years, the world of sexuality and relationships has become increasingly diverse and accepting of different desires and preferences. One area that has gained attention is BDSM, which stands for Bondage, Discipline, Dominance, Submission, Sadism, and Masochism. BDSM can add an exciting and spicy dimension to your sexual life, and one way to explore this realm is through BDSM sex toys. In this article, we will explore what BDSM is, the appeal of BDSM sex toys, and how they can contribute to a more exhilarating and fulfilling sexual experience.
Understanding BDSM: A Brief Overview​
BDSM is an acronym that encompasses a wide range of erotic activities and practices. Here's a brief breakdown of each component:

Bondage​
Bondage involves restraining a partner using various tools such as handcuffs, ropes, or restraints, enhancing the feeling of vulnerability and control.

Discipline​
Discipline pertains to the establishment of rules and consequences in a sexual context. This can involve punishments and rewards for compliance and transgressions.

Dominance and Submission​
Dominance and submission revolve around power dynamics in a relationship, where one partner takes on a dominant role, and the other submits. This exchange of power can be a significant source of excitement and pleasure.

Sadism and Masochism​
Sadism involves deriving sexual pleasure from inflicting pain or humiliation on a partner, while masochism is the enjoyment of receiving such stimulation.

The Appeal of BDSM​
Many individuals are drawn to BDSM for various reasons. It offers a unique combination of psychological and physical stimulation that can enhance intimacy and pleasure. Here are some of the key reasons behind the appeal of BDSM:

Enhanced Sensation​
BDSM practices often involve heightened sensations, whether through restraints, sensation play, or the application of pain. These experiences can lead to intense arousal and pleasure.

Exploration of Fantasies​
BDSM allows people to explore their fantasies and desires in a safe and consensual environment. This can be incredibly liberating and fulfilling for those who have previously felt constrained by societal norms.

Trust and Communication​
Engaging in BDSM requires open and honest communication between partners. This trust and transparency can strengthen the bond between individuals and enhance their relationship.

Novelty and Excitement​
For many, BDSM introduces an element of novelty and excitement into their sexual lives, helping to break away from routine and monotony.

The Role of BDSM Sex Toys​
BDSM sex toys are instrumental in bringing the world of BDSM to life. They are specially designed to enhance the various aspects of BDSM play, making it more accessible, safe, and enjoyable for those involved. Let's delve into some of the key BDSM sex toys that can add spice to your sexual life:

Handcuffs and Restraints​
Handcuffs and restraints are classic BDSM tools used for bondage. They provide a simple yet effective way to restrain a partner, adding a sense of helplessness and vulnerability to the experience.

Blindfolds and Masks​
Blindfolds and masks limit one's ability to see, intensifying other senses such as touch and hearing. They create an air of mystery and anticipation, making each touch and sensation more thrilling.

Floggers and Whips​
Floggers and whips are used for sensation play and impact play. They can deliver a range of sensations from gentle teasing to more intense stimulation, depending on your preferences.

Ball Gags​
Ball gags are employed to limit speech and create a submissive atmosphere. The wearer can still make sounds, but their ability to articulate is restricted, adding to the element of control.

Collars and Leashes​
Collars and leashes are often symbolic of the submissive and dominant roles in BDSM. They signify ownership and control, making them a powerful tool for psychological arousal.

Electro-Stimulation Devices​
These devices use mild electrical impulses to stimulate various parts of the body, creating unique sensations that can be intensely pleasurable when used in a BDSM context.

Safety and Consent​
Before delving into BDSM play, it is crucial to emphasize the importance of safety and consent. Consent is a fundamental aspect of BDSM, and all activities should be negotiated and agreed upon by all parties involved. Establishing safe words and boundaries is vital to ensure a positive and enjoyable experience for everyone.

Tips for Exploring BDSM with Sex Toys​
If you're interested in introducing BDSM sex toys into your sexual life, here are some tips to consider:

Communication​
Open and honest communication is key. Discuss your desires, boundaries, and expectations with your partner before engaging in BDSM play.

Start Slow​
If you're new to BDSM, start with lighter activities and gradually explore more intense experiences as you become more comfortable and experienced.

Safety Precautions​
Educate yourself about safety measures and techniques, especially when using toys that involve impact, restraint, or sensory deprivation.

Consent​
Always prioritize consent and respect each other's boundaries. Ensure that everyone involved is on the same page and comfortable with the activities.

Aftercare​
After a BDSM session, it's important to provide emotional support and comfort to your partner. The intensity of BDSM experiences can be emotionally draining, so aftercare is a vital aspect of the process.

Conclusion:

In conclusion, BDSM sex toys have the power to make your sexual life more exciting and spicy. By exploring your desires and pushing boundaries in a consensual and safe manner, you can discover a world of pleasure and passion you never knew existed. The key is to communicate openly with your partner, establish boundaries, and prioritize safety.

For those seeking a trusted source for high-quality BDSM sex toys in India, 18Care is your go-to destination. They offer a wide range of products and a commitment to ensuring your privacy and satisfaction. Whether you're a beginner or an experienced enthusiast, 18Care can help you embark on your BDSM journey with confidence and excitement.

Remember, the world of BDSM is about exploration and mutual pleasure, and with the right approach and the right tools, you can add a thrilling new dimension to your sexual experiences.
Source: https://forum.intporn.com/threads/how-bdsm-sex-toys-make-your-sexual-life-more-exciting-and-spicy.3406570/